Birria Quesadilla - Food Menu
Sep 13, 2018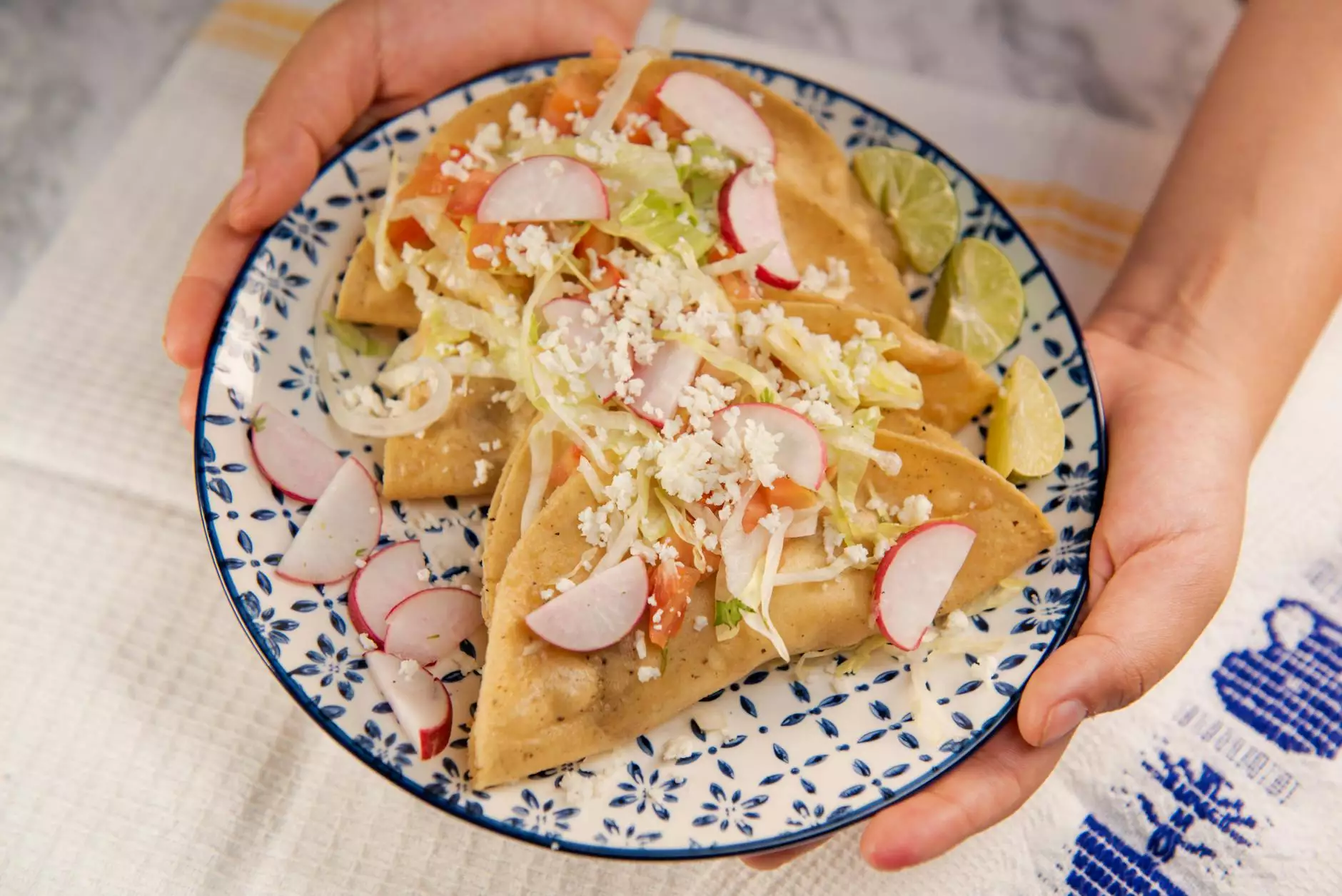 Experience the Fusion of Korean and Mexican Cuisines
Welcome to Gochu Korean Tacos, where we proudly present our delectable Birria Quesadilla, a unique delight that brings together the vibrant flavors of Korean and Mexican cuisines. Our extensive food menu offers a delightful range of dishes that will satisfy your cravings.
Tantalizing Flavors in Every Bite
At Gochu Korean Tacos, we craft our Birria Quesadilla with utmost precision and passion. Each bite is a symphony of harmonious flavors that will leave you craving for more. Our secret blend of Korean spices and traditional Mexican ingredients creates an unforgettable taste experience.
Fresh and Quality Ingredients
When it comes to creating the perfect Birria Quesadilla, we believe that fresh, high-quality ingredients make all the difference. We source our ingredients meticulously, ensuring that each component of our dish meets the highest standards.
Perfectly Cooked to Perfection
Our skilled chefs take the art of preparing Birria Quesadilla to a whole new level. They meticulously cook the meat, ensuring that it is tender, juicy, and bursting with flavor. The tortilla is gently toasted, providing a satisfying crunch that complements the rich and savory filling.
A Harmony of Cultures
Gochu Korean Tacos is proud to celebrate the fusion of Korean and Mexican cultures through our Birria Quesadilla. We take inspiration from the bold and spicy flavors of Korean cuisine and merge it with the comforting and hearty elements of Mexican cuisine. The result is a unique gastronomic experience that will transport you to a world of culinary bliss.
Unforgettable Dining Experience
When you step into Gochu Korean Tacos, be prepared to immerse yourself in an unforgettable dining experience. Our warm and inviting ambiance creates the perfect backdrop for enjoying our Birria Quesadilla. Whether you visit us with family, friends, or even on your own, our friendly staff is dedicated to ensuring your complete satisfaction.
Explore Our Food Menu
Our food menu is a treasure trove of mouthwatering dishes that will leave you spoilt for choice. Indulge in various Korean-Mexican fusion delicacies, each crafted with utmost care and attention to detail. From flavorful tacos to savory burritos, Gochu Korean Tacos has something to please every palate.
Order Birria Quesadilla Online
Craving the irresistible flavors of Birria Quesadilla from Gochu Korean Tacos? You can now conveniently order online and have it delivered right to your doorstep. Experience the convenience of our online ordering system and discover the true definition of culinary satisfaction.
Visit Gochu Korean Tacos Today!
Escape the ordinary and embark on a culinary adventure at Gochu Korean Tacos. Our Birria Quesadilla is the epitome of creativity and flavor, skillfully blending Korean and Mexican influences. Join us today and let your taste buds soar with delight!
Why Choose Gochu Korean Tacos?
Unrivaled fusion of Korean and Mexican flavors
Attention to detail in every dish
High-quality, fresh ingredients
Passionate and skilled chefs
Inviting atmosphere and friendly staff
Convenient online ordering system
Dedicated to customer satisfaction
Discover More Delights on Our Menu
At Gochu Korean Tacos, we have an array of tantalizing dishes that go beyond our Birria Quesadilla. Explore our menu to find other favorites such as:
Korean BBQ Tacos
Kimchi Burritos
Bulgogi Nachos
Mexican-style Bibimbap
Spicy Tofu Quesadilla
And much more!
Contact Gochu Korean Tacos
For any inquiries, reservations, or feedback, our dedicated team is here to assist you. You can reach us through the following channels:
Phone:
+1-123-456-7890
Email:
Address:
123 Tasty Way, Foodville, CA 12345
Business Hours:
Monday-Sunday: 11:00 AM to 9:00 PM